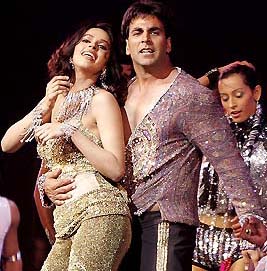 Zee Cine Awards - the most prestigious award event in the history of Indian Film & Music Industry. Zee Cine Awards is not just an International event but a festival that showcases the Best of Bollywood the best films, favorite actors, popular dances and famous items displaying all the best of Bollywood to the whole world.
After 10 yrs of saluting excellence in the Hindi film industry, Zee Cine Awards went International in 2004, now being accessible to over 350 million viewers globally across 140 countries. From the wild deserts of Dubai in 2004 to the hype of London in 2005 to the sun kissed beaches of Mauritius in 2006, Zee Cine Awards was taken to the entertainment land Genting in Malaysia in 2007.
In 2008, the ZCA was held in London for the second time. It took place on 26 April, 2008 at Excel Arena, Docklands, London. It is to be broadcast on Zee TV.
Watch Zee Cine Awards Online:
May 17th Videos Online:
PART-1 || PART-2 || PART-3 || PART-4 || PART-5 || PART-6
PART-7 || PART-8 || PART-9 || PART-10 || PART-11 || PART-12
May 17th Videos Download:
PART-1 || PART-2 || PART-3 || PART-4 || PART-5 || PART-6
PART-7 || PART-8 || PART-9 || PART-10 || PART-11 || PART-12
Zee Cine Awards 2008 Winners / Results
Best Film
Chak De! India - Aditya Chopra, Yash Raj Films
Best Director
Aamir Khan - Taare Zameen Par
Best Actor (Male)
Shah Rukh Khan - Chak De! India
Best Actor (Female)
Kareena Kapoor - Jab We Met
Most Popular Track Of The Year
Mauja Hi Mauja - Jab We Met

Best Actor In A Supporting Role (Male)
Govinda - Partner
Best Actor In A Supporting Role (Female)
Shilpa Shetty - Life In A.. Metro
Best Actor In A Comic Role (Male/Female)
Vinay Pathak - Bheja Fry
Best Actor In A Negative Role (Male/Female)
Arjun Rampal - Om Shanti Om
Best Playback Singer (Male)
Shaan - Jab Se Tere Naina (Saawariya)
Best Playback Singer (Female)
Shreya Ghosal - Barso Re Megha (Guru)

Best Lyrics
Prasoon Joshi - Maa (Taare Zameen Par)
Best Music
A R Rahman - Guru
Most Promising Debut Director
Aamir Khan - Taare Zameen Par
Most Promising Debut (Male)
Ranbir Kapoor - Saawariya
Most Promising Debut (Female)
Deepika Padukone - Om Shanti Om
Most Promising Debut (Child Artiste)
Darsheel Safary - Taare Zameen Par
Technical Awards

Best Choreographer
Farah Khan - Om Shanti Om

Best Costume
Manish Malhotra & Karan Johar - Om Shanti Om
Best Visual Effects
Red Chilli's Entertainment - Om Shanti Om
Best Editing
Amitabh Shukla - Chak de India

Best Cinematography
Sandip Chaterjee- Chak de India

Best Action
Parvez Khan - Jhonny Gaddar
Best Film Processing
ADLABS - Namastey London
Best Art Direction
Nitin Desai - Gandhi my Father

Best Sound recording
Baylon Ponseca - Shootout at lokhandwala

Best Background Music
AR Rahman - Guru
Best Screenplay
Imtiyaz Ali - Jab We Met
Best Dialogue
Jaideep Sahani - Chak De India
Best Story
Amol Gupte - Taare Zammen Par
Zee Icon award
Shah Rukh Khan
Zee Cinema Entertainer of the year
Ritesh Deshmukh
Lifetime Achievement
Zeenat Amaan
Lifetime Achievement
Feroz Khan

British Indian Actor Award
Katrina Kaif
Bollywod Queen Award
Gauri Khan
Critics Awards
Best Film
Gandhi My Father
Best Actress
Shifali Shah – Gandhi my Father
Best Actor
Darsheel Safary – Taare Zameen Par
Critics Special Awards
Neil Nitin Mukesh
(zcine, zee cinee awards, z cinema awards, zee cini, london telecast wards, bollywood zee cinem